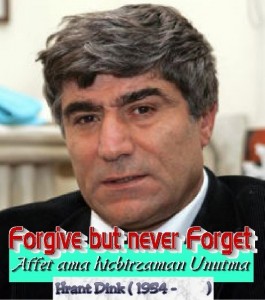 .
Dear All,
 We regretfully inform you that a change has been made to  our keynote speaker for the 9th Commemoration of the Assassination of Hrant Dink to take place on January 19th at 8 pm at the OIA.
Eric Nazarian sincerely apologizes for being unable to attend in person due to an urgent and unexpected matter.  He will be sending his written remarks which will be read and delivered by Edvin Minassian. 
Author and attorney, Matthew Karanian has gracefully accepted our invitation and will be the Keynote Speaker.  Matthew Karanian is the author of the ground breaking new book, Historic Armenia After 100 Years: Ani, Kars, and the Six Provinces of Western Armenia .
Following Mr. Karanian's keynote speech, remarks will be delivered by Mark Chenian.
We look forward to seeing all of you at the OIA  and join us to commemorate and honor our  Martyr and Hero, Hrant Dink.
OIA